Welcome to Golden Thread's content guide!
Here you'll find a more in-depth descriptions of productions as well as other content information intended to help our patrons engage with our work as they choose.
We have tried to include content that is considered to be of a sensitive nature, but this list does not necessarily cover every subject of concern. Some content may be only briefly mentioned, while other content may be a more major theme or central aspect of the play.
If you wish to know more about the content you see here, please contact the box office by phone or email. We would be happy to provide more information.
New Threads 2022
August 9, 2022
A Thousand Strange Places: Anthony Shadid and the Middle East
written by Robert Myers, directed by Sahar Assaf
The play dramatizes the life and career of the Pulitzer Prize-winning, Lebanese-American journalist Anthony Shadid during the tumultuous decade of 2002-2012. He is wounded in Palestine, awaits the American invasion of Iraq in Baghdad, covers the Israeli invasion of Lebanon in 2006, the fall of Mubarak in Tahrir Square, and is kidnapped in Libya while reporting on the civil war there. As an Arabic speaker and a brilliant writer, he re-defined the role of a reporter and was one of the only correspondents who covered the lives of people from the Arab world from every walk of life.
Content Advisories: Reference to war. Depictions of physical injury. Sounds of bombs. Graphic description of violence caused by war. Death of children due to war. Description of wartime sexual violence. Reference to animal cruelty. Projections of real war photos.
August 16, 2022
What to Expect When You Are Simulating Expecting
written by Nabra Nelson, directed by Susannah Martin
In the year 2080, the new normal involves taboos on pregnancy, car ownership, red meat, and suburban homes. It involves travel restrictions, a mixed-race majority, ongoing climate disasters, and constant uncertainty. But other than that, everything is the old normal. Except for Hoda's experimental pregnancy. As Hoda gets ever-closer to her dream life – a home safe in Canada, away from Seattle's floods and wildfires, and a nuclear family to settle down with – things don't seem to be going as planned. As she waits for her husband Ahmed to adopt a child from Egypt to round out their family, she starts getting pains that her doctor can't explain, and she meets an intriguing new friend named JeeYoung. The clock ticks as the Big One approaches to wash away Hoda's plans, but she is determined to fly away in time. An intense yet comedic experience, this near-futuristic play simulates the unexpected.
Content Advisories: Profanity. Depictions of pregnancy complications and birthing. Mention of abortion.
August 23, 2022
Pilgrimage
written by Humaira Ghilzai and Bridgette Dutta Portman, directed by Aidaa Peerzada
Five Muslim American women embark on an Umrah, a minor pilgrimage, to Mecca. Noor, an Afghan American immigrant with a secret, hopes the journey will give her the absolution she desperately seeks. Her tech CEO daughter Maryam, struggling with legal woes, sees the trip as a way to rebrand herself, while Noor's nieces, the estranged sisters Sosan and Nadia, work to mend their fractured relationship while fulfilling the Umrah rituals as a requisite to receive their inheritance. Meanwhile, Fatima, a Black Muslim convert, hopes to find her biological mother. Will these five women find the spiritual reawakening they seek, or will secrets, rivalries, and old wounds tear them apart?
Content Advisories: References to death of a family member. References to bullying and prejudice. References to political violence. Themes of grief, family dysfunction, and abandonment.
August 30, 2022
HOME?
written and performed by Hend Ayoub, directed by Carey Perloff
An autobiographical solo show about a young woman's journey to retrieve and imagine a new sense of home. Through a panoply of vivid characters—from a five-year-old who just wants to join the neighborhood's Purim party to a casting director in Egypt who can't forget where she comes from, to her dying mother who longs for her to find a place in the world—Hend shares a deeply personal and true story about her search for the place that many of us take for granted: Home.
Content Advisories: Description of ethnic discrimination. Death of a parent.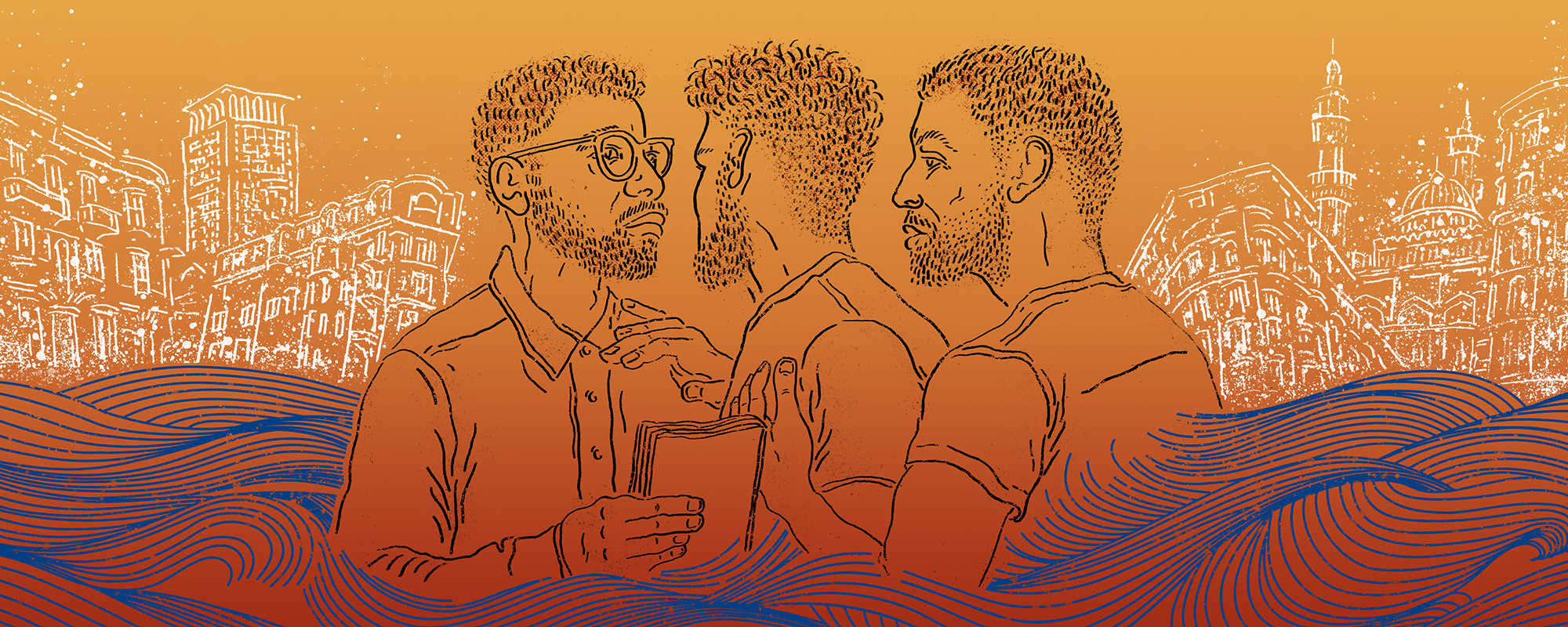 April 8 - May 1, 2022
Drowning in Cairo
written by Adam Ashraf Elsayigh and directed by Sahar Assaf
It is May 2001 in Cairo. Moody, Khalid, and their servant Taha are on the Queen Boat, a gay nightclub docked on the Nile. When an unexpected police raid results in the arrest and public humiliation of the attendees, the lives of these young men are altered forever.
Content Advisories: References to the death of a parent, substance abuse and depictions of alcohol drinking. References to sexual violence. Homophobic language. Sexual content. Realistic depiction of physical violence. Gunshot sounds. Siren and flashing lights.