Have you prepared your Haft-seen?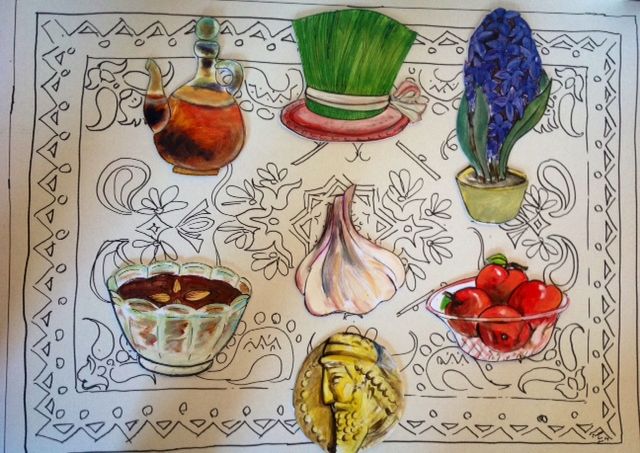 Celebrate Nowruz, the ancient Iranian rite of spring with Golden Thread Fairytale Players latest offering. A fun-filled and adventurous performance that is sure to both entertain and educate the entire family!
March 15, 2014 - November 15, 2014
Various Bay Area schools & libraries
Written by Torange Yeghiazarian
Directed by Torange Yeghiazarian
Featuring Majd Murad, Mohammad Talani
Design Team: Mokhtar Paki (puppets & props)
Dance choreography by Lisa Tateosian
---
This production runs approximately 30-minutes followed by 20-min Q & A session
Appropriate for families and children, ages 5-15

This delightful performance frames an ancient tale from Ferdowsi's Shahnameh within contemporary adventures of Dara & Sara, a sister and brother eagerly awaiting the coming of Nowruz. Guided by their sweet but somewhat hard-of-hearing granny, Dara & Sara learn about spring cleaning, setting a traditional Haft-seen table, the fun rituals of Charshanbeh-suri, and the Sizdeh-bedar picnic which concludes the rite of spring ceremonies.
This enriching and humorous presentation includes music, dance, storytelling, puppetry, and audience participation. Fusing history and literature with contemporary arts, 21 Days That Change the Year offers a multi-cultural event providing children and their families with the richness of Iranian arts and culture.