An Armenian-Azeri Love Story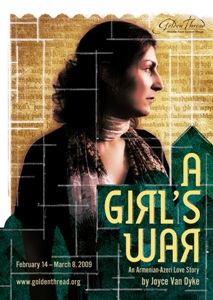 During a stormy fashion shoot, Anna Sarkisian, a New York fashion model, learns that her younger brother has been killed by enemy soldiers in her native Karabakh in the Caucasus Mountains. In the Armenian enclave of Karabakh, formerly part of the Soviet Union, an unresolved civil war still smolders between Armenians and Azerbaijanis. The war has already killed Anna's older brother and driven her mother into the army. Anna decides to return home to her village for the first time in 15 years. Living with her fiercely partisan Armenian mother in the bombed ruin of her childhood home, Anna defiantly refuses to identify herself with the Armenian cause. Tensions ignite when, Ilyas, a young Azeri deserter shows up, claiming to be a former neighbor. Anna and Ilyas, powerfully drawn to one another, become lovers in secret. The competing desires of love and vengeance, fueled by jealousy, propel the characters toward an explosive climax with tragic consequences.
February 14, 2009 - March 15, 2009
Thick House
1695 18th Street, San Francisco
Written by Joyce Van Dyke
Directed by Torange Yeghiazarian
Featuring Ana Bayat, Adrian Mejia, Zarif Sadiqi, Simon Vance*, Bella Warda
Winner of John Gassner Playwriting and the Provincetown Playwriting Awards.

First produced at Boston Playwrights' Theatre in 2001, A Girl's War was named one of the "top ten" plays of the year by the Boston Globe. A play about the impact of the Karabakh war on one family, it played to sold-out houses, winning the John Gassner Playwriting Award and the Provincetown Theatre Company Playwriting Award. In 2003, New Repertory Theatre produced the play, again to critical acclaim and sold-out houses. A Girl's War was nominated in 2003 for the prestigious American Theatre Critics Association Steinberg New Play Award, and published in the anthology Contemporary Armenian American Drama (Columbia Univ. Press, 2004).
What the Critics Say About A Girl's War. . .
. . . the thrilling "A Girl's War" . . . focuses on individual conflicts as a way to bring us dangerously close to the gunfire. - Boston Herald
. . . stunning smaller-theater success . . . - Boston Globe
The six characters may be archetypal, but they are also fully developed, living, and breathing people.
-Boston Globe
. . . sexual sparks fly . . . - Boston Herald
. . . a taut, well-acted production . . .The dialogue bristles, and the play is both pertinent and powerful. - Boston Phoenix
. . . scrutinizes a very political issue through a very human, emotional lens . . . a drama as explosive as a pistol shot. -Digital City
. . . beautifully composed, well-acted with wide emotional range, smartly produced and very affecting. -Patriot Ledger
The play makes its points with powerful assertion and compassion for the suffering of all parties. - Boston Phoenix
. . . a shockingly searing insight into the nature of conflict. - Boston Herald
A Girl's War– Joyce Van Dyke's moving and thoughtful play about ethnic tensions in the Caucasus – though it applies to just about any war in the world. - Boston Globe