Dive into the murky waters of family, identity, and politics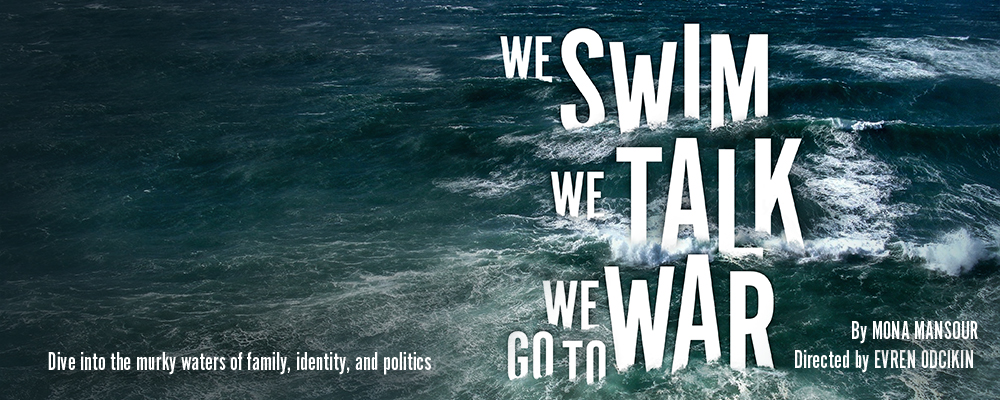 While trying to navigate the currents of the Pacific, an Arab-American woman and her nephew, who has enlisted in the military, dive into the murky waters of family, identity, and politics. Adventurous and playful, We Swim takes the form of a literal conversation on stage, and expands into a nuanced dialogue about what it means to be American, Arab, and Arab-American at our current moment in time. Lebanese-American writer Mona Mansour returns to Golden Thread for her fourth production — her most ambitious and personal to date.

The play offers its audience an opportunity to examine America's relationship with its military, as well as its growing Middle Eastern immigrant population. It blurs the lines between 'us' and 'them,'' and presents a provocative exploration of the tragic and indelible ripples of war.
November 17, 2018 - December 16, 2018
Potrero Stage
1695 18th Street, San Francisco
Written by Mona Mansour
Directed by Evren Odcikin
Featuring Tre'Vonne Bell, Joshua Chessin-Yudin, Adam El-Sharkawi, Sarah Nina Hayon
Design Team: Cassie Barnes (lighting), Kate Boyd (scenic), Sara Huddleston (sound), Mona Kasra (projections), Michelle Mulholland (costumes)
Dramaturgy by Sonia Fernandez
Hala Baki (assisstant director)

---
This production runs 75 minutes with no intermission.

This play was commissioned by Middle East America: A National New Plays Initiative, created by Golden Thread Productions (San Francisco), The Lark (New York City), and Silk Road Rising (Chicago). Mona Mansour is the third winner of the Middle East America Distinguished Playwright Award, which was previously awarded to Adriana Sevahn Nichols and Yussef El Guindi.
Reviews
HIGHEST RATING! "A unifying cleanse… Mansour's disarmingly naturalistic dialogue helps make these seismic structural shifts work. Over and over again, you might find yourself thinking, 'Wow, this is how people actually talk' — not to stoke drama for some playwright's convenience, but to hedge, to test boundaries, to pursue what they want, and then to placate, to retreat, to regret." —Lily Janiak, San Francisco Chronicle (read full review)
"We Swim has an off-handed beauty… Its pleasures are engaging in ways that political theatre rarely is." —John Wilkins, The Free Audience
"A poetic visual approach… Feels refreshing from the get-go." —Jim Gladstone, Bay Area Reporter
"Imaginative… There's humor and an engaging earnestness." —Jean Schiffman, San Francisco Examiner
"Excellently choreographed… Odcikin's direction is to be commended." —Carol Benet, For All Events
"Working on a bare-bones unit set designed by Kate Boyd and enhanced by Mona Kasra's projections, Odcikin has done an impressive job of shaping the conversations." —George Heymont, My Cultural Landscape
"Compelling… Director Evren Odcikin handles changes of pace and place handily." —Sam Hurwitt, Mercury News