A Celebration of International Women's Day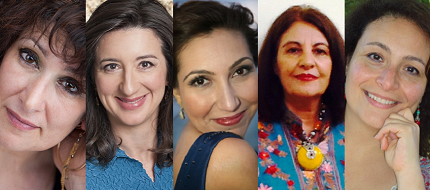 Golden Thread will honor over a century of activism by women artists for freedom, self-determination, and justice at its annual International Women's Day celebration, What Do the Women Say?. This year's program features the work of Middle Eastern women artists, who counter and shatter stereotypes, and engages in a conversation with history in light of the sweeping changes across the Middle East.
Golden Thread is honored to present award-winning Syrian American opera singer Saousan Jarjour's Bay Area debut featuring new work by Nahal Navidar (New Threads 2014) and composer Julia Adolphe, as well as Syrian folk songs. Early 20th-century writings by women from Iraq, Tunisia, and Algeria selected from the anthology, Opening the Gates, A Century of Arab Feminist Writing, will be presented alongside readings in English and Persian by leading Bay Area poets and authors: Elmaz Abinader (This House, My Bones), Anita Amirrezvani (The Blood of Flowers, Equal to the Sun), Najia Karim, and Deema Shehabi (Thirteen Departures From the Moon). Golden Thread artistic associate Haleh Hatami will facilitate a conversation with the artists following the presentations.
March 13, 2015
La Peña Cultural Center
3015 Shattuck Ave. Berkeley, CA
Featuring Elmaz Abinader, Anita Amirrezvani, Saousan Jarjour, Najia Karim and Deema K Shehabi