No Summary: MENA Playwrights on Storytelling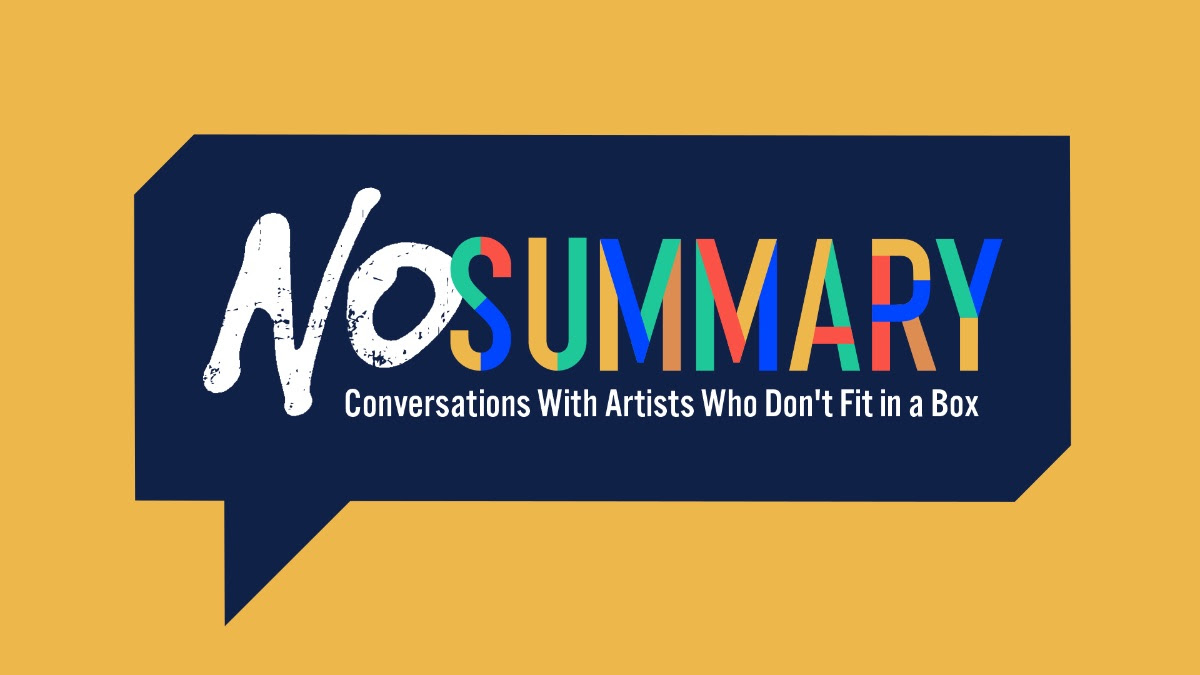 Wednesday, June 7, 2023 at 11:00 AM (PT) via LIVESTREAM
In this episode of No Summary, we are thrilled to bring together a panel of MENA playwrights who are writing powerful stories for U.S. audiences and using their platforms to shed light on the experiences of underrepresented communities. Join us as we delve into the creative process of playwriting, the challenges and opportunities of bringing diverse stories to the stage, and the impact that these stories can have on audiences.

The panel will be joined by a MENA American Theater class at California Polytechnic State University, designed by professor Hala Baki to imagine how MENA theater can contribute to a more inclusive American culture, and a Plays and Styles drama class at the University of Washington taught by Mona Merhi who focused the course on topics related to race, ethnicity, and identity representation by examining the works of playwrights from the MENA region alongside modern and contemporary western texts.
New Threads Staged Reading Series 2023
TBD August 2023
Featuring two new play commissions: one by Adam Ashraf Elsayigh with dramaturg Salma Zohdi based on the life of political prisoner Alaa Abd El-Fattah; and another by Tariq Hamami with dramaturg Dawn Monique Williams about the Black Panthers in Algiers.
Brava Theater Center (2781 24th Street, San Francisco)
ReOrient 2023 Festival of Short Plays
October 13 - November 4, 2023
ReOrient 2023 will celebrate the return of our signature program, an innovative and spirited festival of short plays from or about the Middle East. The dizzying line-up is diverse in content and style, with 6 plays selected from 113 submissions, highlighting a multiplicity of Middle Eastern perspectives and identities.
Featuring playwrights Katrin Arefy, Adam Ashraf Elsayigh, Yussef El Guindi, Arti Ishak, Hamed Sinno, and Judith Boyajian Strang-Waldau; Directors include Sahar Assaf, Amal Bisharat, Susannah Martin, Adin Walker and Becca Wolff.
---
GOLDEN THREAD TICKETING POLICIES In our continuing efforts to provide an equitable and accessible theatre experience for all, we recently revised our ticketing policies and pricing structure to better reflect three fundamental values we hold that we believe foster a just, inclusive and community-driven space.
All artists, staff, cast, and crew deserve fair and equal compensation.
Everyone should be able to access all available ticket prices.
No one should be turned away for lack of funds.
We have eliminated gatekeeping practices such as exclusive access to prices via discount codes, student/senior status, or group sales and are instead offering a broader range of ticket prices designed to achieve fair wages for our artists while maintaining financial flexibility for our audiences. These include the following ticket categories:
NAME YOUR PRICE Ranging from $20 to $40, Name Your Price tickets offer a range of options, reflecting our more traditional prices. If you previously purchased $20 Thursday tickets, Student/Senior tickets, or General Admission tickets, these are for you!
PAY IT FORWARD Ranging from $50 to $100, Pay It Forward tickets are intentionally priced to support our goal of increasing access to low and no cost tickets, like our Community Walk-ins, each night, for every show. When you purchase one of these tickets, you're contributing to greater access for all!
PAY WHAT YOU WANT PREVIEWS A self-determined sliding scale, Pay What You Want tickets are available for any preview performance when you pay at the door. (Unfortunately, our box office software can't do it in advance.) You can also purchase in advance online for only $15.
COMMUNITY WALK-INS A consistent low or no cost option, Community Walk-ins are intended to ensure no one is turned away for lack of funds. 5% of all our seats are set aside each night and can be requested in advance by emailing us at boxoffice@goldenthread.org under the subject line 'Community Walk-in' or at the door subject to availability.
GENERAL BOX OFFICE INFORMATION For assistance with any box office related issue, please email boxoffice@goldenthread.org.
Ticket Policies:
Ticket purchases are non-refundable and valid only for the date and performance issued.
Free exchanges for a later date or a future show can be made via email subject to availability.
All seating is general admission unless otherwise specified.
All tickets are available for pick up at will call under the name of the purchaser.
Online ticket sales end 4 hours before show time.
The Box Office opens at the venue 1 hour before showtime for will call and day of show sales.
The house opens 30 minutes before the performance and there is no late seating. Unclaimed prepaid tickets may be released for company walk-ins prior to the start of the show.
If you have registered for a virtual event the link to access your virtual program can be found in the confirmation email for your ticket purchase. For troubleshooting tips for viewing, visit https://goldenthread.org/posts/your-guide-to-the-patron-manager-video-on-demand-platform/.
If you have registered for a free event but can no longer attend, please notify the box office so we can accommodate someone else.
ACCESSIBILITY
Accessibility for hearing, sight, or mobility can be addressed via email (boxoffice@goldenthread.org), phone (415-626-4061) or by putting a note in your ticket order. A request in advance of purchase or attendance will assist us in accommodating your party. Unfortunately, our venue cannot offer listening devices.
While we are unable to provide gender neutral restrooms in the venues we rent at this time, we embrace gender diversity and maintain an inclusive space where individual identities are respected. All are welcome to use the restroom that is most comfortable for them, including a private single-stall restroom available in our adjacent office, accessible via a staff member.
COVID-19 SAFETY & PROTOCOLS
Golden Thread is a fully vaccinated company. Our health and safety protocols comply with current health and safety guidelines provided by the State of California and City of San Francisco. These policies will be updated if city guidelines change. 
For the safety of our artists and fellow audience members, we strongly recommend all guests to wear well-fitted masks while inside the theater. Per CDC guidance, we encourage the use of procedural masks (either alone or with a cloth mask on top) or a higher grade N95 or KN95 mask instead of cloth masks alone.  
At performances where concessions are served, we strongly recommend guests resume masking when not actively eating or drinking. The ability to take concessions into the theater will vary depending on the venue. 
By registering for an in-person event, you agree to adhere to our COVID-19 health and safety protocols. For more health and safety information, click here.