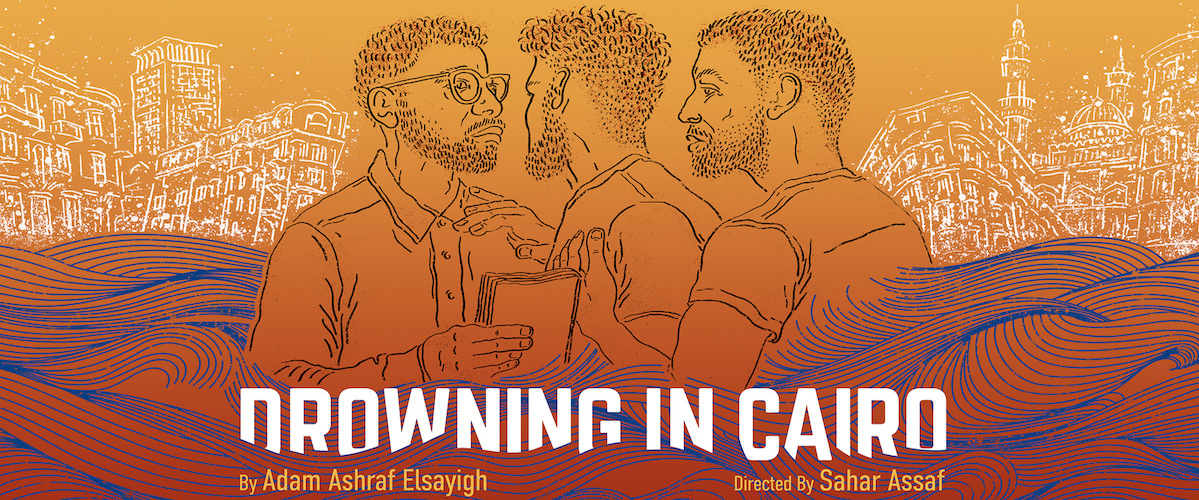 We're delighted to bring you the World Premiere of Adam Ashraf Elsayigh's Drowning in Cairo, originally presented and partially developed as part of Golden Thread's New Threads Reading Series in 2018.
It is May 2001 in Cairo. Moody, Khalid, and their servant Taha are on the Queen Boat, a gay nightclub docked on the Nile. When an unexpected police raid results in the arrest and public humiliation of the attendees, the lives of these young men are altered forever. Adam Ashraf Elsayigh's debut production weaves budding romances, class differences, and familial expectations into a loving portrait of three men who all struggle to rebuild their lives against all odds.
Adam says: "Golden Thread was my first artistic home in the U.S.; my experience workshopping an early draft of Drowning in Cairo at Golden Thread showed me that there was a space for my voice and artistry in this country. That the same play gets to have its world premiere here, four years later, especially under the brilliant direction and artistry of Sahar Assaf, feels like a true blessing and homecoming."
Watch the trailer video below.
Check out this episode of our digital series NO SUMMARY: Conversations with Artists Who Don't Fit in a Box, which featured Adam in conversation with Drowning in Cairo director and Golden Thread Executive Artistic Director Sahar Assaf on December 3, 2021, to learn more.
For content advisories and additional information visit our content guide.
April 8, 2022 - May 1, 2022
Potrero Stage
1695 18th Street, San Francisco
Tickets $20-$100
In-Person Performances April 8 - May 1, 2022
Written by Adam Ashraf Elsayigh
Directed by Sahar Assaf
Featuring Amin El Gamal*, Wiley Naman Strasser*, Martin Yousif Zebari
Design Team: Kenan Arun (Make-up Design), Atusa Assadi (Assistant Stage Manager), Becky Bodurtha (Costume Design), Kate Boyd (Lighting Design), Peet Cocke (Props Design), Maya Herbsman (Intimacy Choreographer), Yang Li (Wardrobe Assistant), Crystal Liu (Board Op), Tyler Miller (Production Manager), Carla Pantoja (Fight Choreographer), George Psarras (Sound Design), Karen Runk* (Stage Manager), Chris Swartzell (Technical Director), Mikiko Uesugi (Set Design)
Dramaturgy by Salma Zohdi